Have a Happy Tail to share? Please contact us and let us know!
Redford update!
Hi Kelly,
Just wanted to let you know that Tucker is doing wonderful! He is doing great with all of our family and is fantastic in the car on all of our road trips. Thanks again for taking care of him while he was with you. He has brought us a lot of happiness <3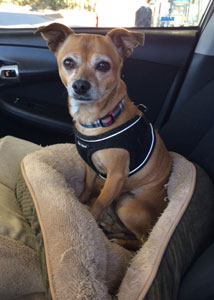 ---
Jett has a big new family!
We are so delighted Jett chose us as his family he will have a full house, with 4 other dogs and 3 children. We will love him unconditionally just like all the rest. Thank you Kelley for your support with texts and visits. You are an amazing person more people should be like you God bless!
Jett is a terrific, well manner, healthy, & spunky little dog. I'm glad he is ours.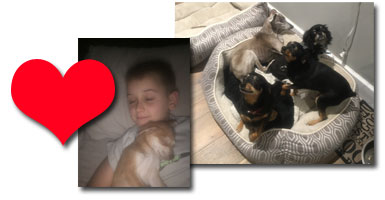 ---
Francesca, now, a princess!
hopefully all of these photos will come through for you. my little Boo is what i call my little green valley princess, as you can see from some of the photos. in some photos she's got on her innertube and watergoggles; in others she's trying to "hang 18." in another she's hanging with her green valley gal pals. others she's just smiling in the back yard. in another, she's wearing her green valley princess crown. others she's getting down with nature.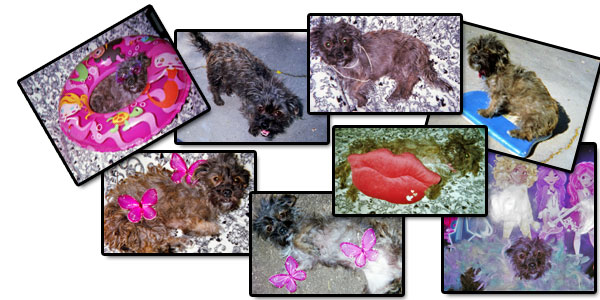 ---
Little River in her new home!
Here are some pictures! She def loves cat nip haha I really have to hide it from her– came home from work one day and she had found the bag, ripped it open, and had a field day haha! 🙂
Best,
Dayna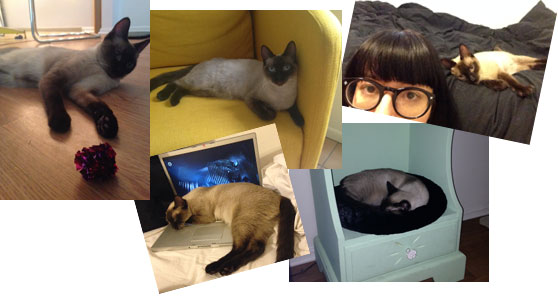 ---
We are so happy that Gracie is so happy!
Gracie is enjoying one of her new toys. It's an Orbee football. Very sturdy, bounces crazy and holds its shape. She got a wellness check at vet yesterday. She weighs 46.6 lb. Her rabies had expired so she got a 3 yr. I had them do a senior blood panel. She's healthy as a horse! The vet thinks she did have a small stroke at some point which is why her face and eyes are crooked. She also spins when she gets excited and when walking down the hall sometimes. She needs some leash training as she nearly drags me along!
She's sporting a new rolled leather collar and has all her tags (bangles) on it. Gracie eats 1st and 2d breakfast and supper then later snack. She has gained a few pounds and her hips do not stick out as they did.
She went to self serve dog wash yesterday and her coat is shiny as can be.
She seems so happy all the time. We love her!
---
Neko and SuSu…and their bestie Crush!
Ha Ha Kelly,
I just went up on your website to look at Happy Tails because I was going to write about the three of them and saw that Crushy is already there! Love it. Since he's already there, I'll do one for Neko and SuSu.
John and I got Neko shortly after Crush, but he was lonely in Tucson all on his own (Crush was keeping my older rescue company in Phoenix). At the Fur Ball, John bid on, and won the auction for SuSu, the beloved Siamese also from Lucky Paws.
They were friends before and are greater friends now, exploring the great cat tower also from the Fur Ball. Attached are two pics, one of Neko and SuSu playing on the tower, and one of all three, including Crush, eating together. A family that eats together, stays together!
Thanks Lucky Paws for bringing joy to our lives!
Kate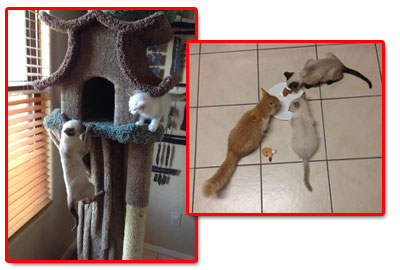 ---
Little kitten Abby looks comfy!
Still getting used to everything but we're off to a good start! Thanks again for squeezing us in. We'll return the carrier tomorrow and send more pics as we get them!

---
Bella and her new family!
Hi Kelly,
I have been meaning to send you an email with some photos of Bella (we renamed her Kaya after the Bob Marley album). Over the past few months we have got settled in and developed a routine. Bella is spoiled with tons of toys and rawhides. We make sure to get her to the dog park a few times a week to keep her well socialized with other dogs and strangers. She really loves the dog park. She has already been on multiple adventures including exploring four peaks, the lakes around pine top, and the beach in Rocky Point. I know it's a long shot but do you have any pictures of Bella as a puppy? I know she was at Lucky Paws for a while and thought maybe there might be some. Happy new year and have a great day.
Dustin Ford
I think I went a little overboard with the photo attachments. Sorry.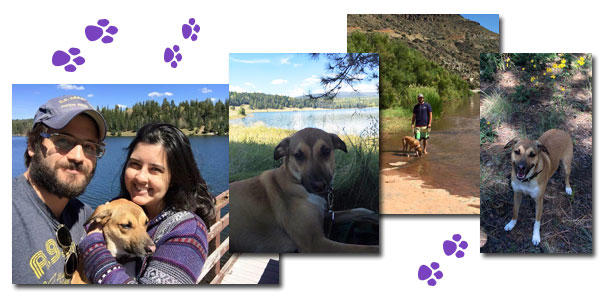 ---
From a breeder "reject" to real home!
I took Gracie to meet Joan, an old friend of mine last Thursday. She was a Doberman owner for decades. She is now 87 years old and no longer owns dogs, but still loves to see my Dobermans. I took Gracie with me for lunch at Joan's house. Gracie loved exploring her backyard and discovered a rawhide under a bush. She had a wonderful time. Gracie is meeting new people every week, and an occasional dog on walks or at the park.
I am so thankful she has joined our family.
Boni & Billy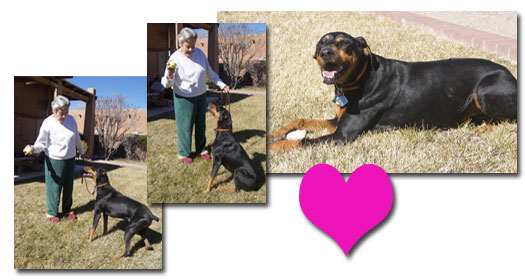 ---
Freeway!
"Freeway was a beautiful blue-mereled Chow Chow who was found running along the freeway in Arizona. He was a mess. Freeway needed a lot of care. As time went on, Freeway's coat really filled out and he became such a loving boy. Here is a recent pic of Freeway and his best friend. A match made in heaven!"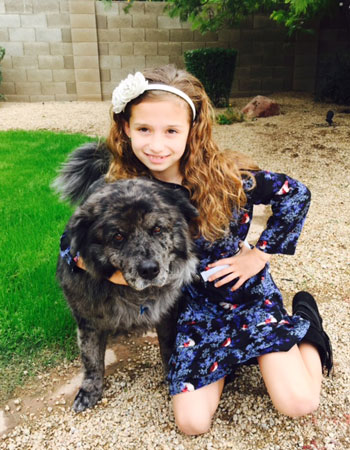 ---
All about Watson! (Was Gustaf)
Hi Kelly! 🙂
We made it to Idaho and are having so much fun wIth Gustaf! (Who we are re-naming Watson…. as in, "elementary my dear" 🙂 The trip home was tiring and long, but both Thomas & Watson came through like pros!! My parents took Watson for a few walks the day we were there in Salt Lake. My mom (who's in her 80's 🙂 loved him and that's saying something as she isn't a big animal fan. 🙂
Watson has done great with our cats so far! We've been keeping him in the kitchen and bathroom, just for now, so the kitties can get used to his smell/presence. He an Norm have done noses a few times with no problems 🙂 He's gone for LOTS of walks and trips to the park across the street! My kids have taught him to sit using treats 🙂 and I'm working on teaching him to heal on our morning walks. He will be licensed and micro-chipped in a few days at the vet.
It was so joyful 🙂 to see Watsy just run and run and run happy as can be in our backyard playing keep away from us with his ball. My hubby has fun getting him in play mode.
He is a love and truly one of a kind!! Thank you so much Kelly!! We love him to pieces!! Thanks for your kindness and for all the hard work you do to make a difference in this world! I think there is a special, beautiful place God has for you in heaven. I will send pictures soon!
Love~
Annette

---
Maddie is finally Loved!
"Some of you may remember Maddie. She was a web-footed gal who was rescued of the euthanasia list and was super skinny and full of parasites. Maddie was adopted quite some time ago and here is a recent pic with her big brother. We love happy endings!"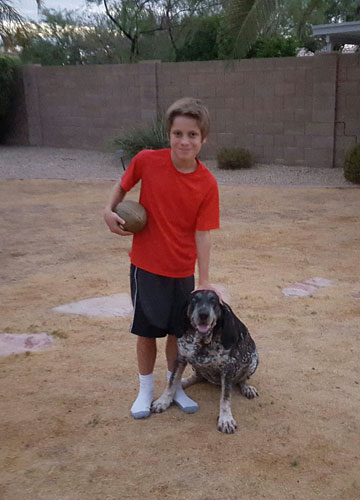 ---
Crush was a scared kitten, not anymore!
Hi Kelly,
Would you have ever guessed that Crushy would want to spend his first nite here on my belly?? That's what's happening right now. We had an awesome bonding day…
-Kate

---
Magpie's first night at her new home!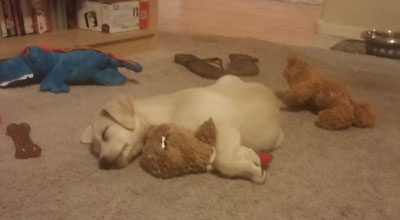 ---
Sadie is learning to trust again after a life of mistreatment <3
We are finding our way. You're right, she is very submissive and pretty skittish. Someone wasn't very nice to her. We need to rebuild her confidence. She LOVES Paul, and she did pretty good even as overwhelming as the day must have been. Daniel came over with his girlfriend and her brother, and Sadie was nervous until they started throwing her ball. She has a lot to learn but she is eager to please. She spent a nice quiet night, no whining or crying, but she doesn't like me closing the pocket doors on her if she knows I'm home! She is starting to show some interest in the cats. We'll see where that goes! She craves attention, poor baby.
We walked her last night and I took her this morning as well, because I wanted her to be able to get some exercise before being cooped up while we were at work. Danny spent some time with her this morning and let her go out, and Paul came home early and is working from home so he is with her. He said she was so happy to see him, her tail was going nuts.
That's the latest!

Another Sadie Update:
She's definitely getting used to us. She found her bark this morning…someone walked by the side yard and she let them know she was there! She and one of the cats had a face-off last night. She's not really afraid of them, she is VERY curious, but she isn't charging them or chasing them. She sleeps great through the night and goes potty outside like a champ. She has a lot of manners to learn (not her fault!) and we are working with her. She sits on command now, and we're working on "stay." She seems like a smart girl. We're walking in the morrnings so she can get the smell of the neighborhood, and she does love that ball!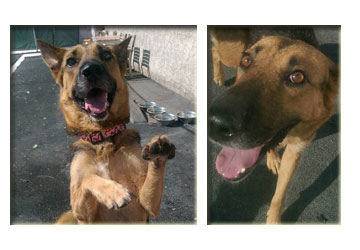 ---
Capone is growing up!
Hello! We adopted Capone last November and renamed him Mikey. We wanted to share a couple of recent pics with y'all: one of him being goofy in the back yard and the other when he turned one in July. (He and our son Luke share the same birthday!) Mikey was not crazy about the cone of shame on his head. He's a happy, sweet doggy who is protective of his family, loves hunting lizards (he hasn't caught one yet) and retrieving squeaky balls, and has grown to large dog status at 51 lbs. We love having him!
Our daughter has asked for donations for Lucky Paws in lieu of birthday gifts for her 9th birthday party next weekend. Hopefully we will be able to share some goodies with you soon 🙂
Hope all is well!
LoveA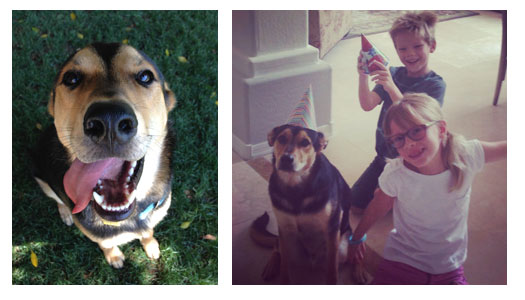 ---
Sweet Skittles!
…sprawled out like a lazy cat!
---
Mason and Heather, adopted together!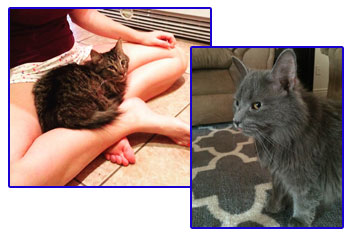 ---
Willie Nelson is now Cooper!
Hi Kelly,
I wanted to let you know how much we love having Willie (we renamed him Cooper) in our family. Attached is a photo of him. He has grown a lot and loves to run and chew on things. He's a wonderful, loving pup.
~Wonsook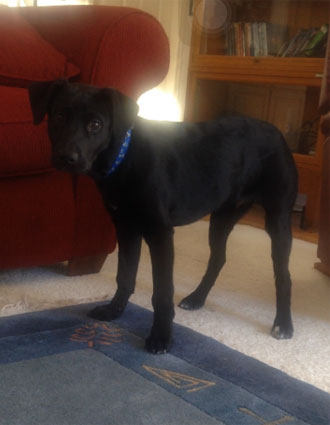 ---
Toulouse is learning from his elder, Marseilles
Hi Kelly,
Just passing this along for you to see little Toulouse at 9 months!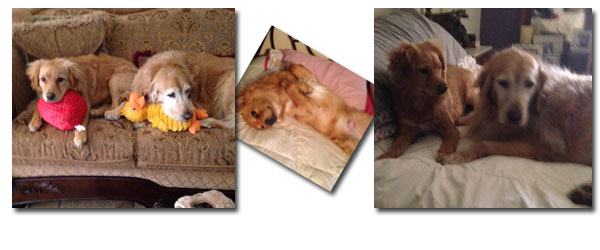 ---
Luke the Russian Blue
We adopted a wonderful Blue Russian from you last Feburary and we currently took in a stray for friendship. We are seeking your expertise in finding a great place to have her spayed. Please let me know of some good connections.
We adopted Luke, a blue Russian who has been without a doubt the best pet the world has ever seen so we took in a stray for company. They hit it off great. Other than the midnight playing (they are great friends)!
~M.F.
---
A Dollar is worth so much!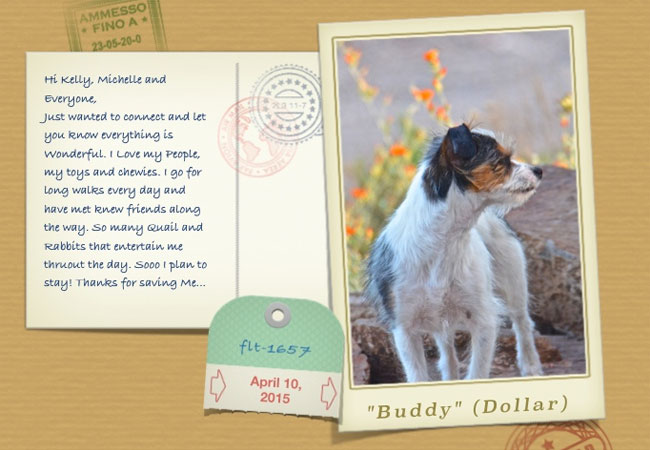 ---
Update on Redford!
Hi Kelly,
Just wanted to update you on my little man, Tucker (formerly known as Redford). He is such a great dog! He loves our lab and is quite protective of her when we visit the dog park or when we have doggie visitors at our home. We have also acquired a cat in early February and they are best friends! They chase each other and wrestle several times a day. Tucker is quite a sweet boy. He loves to be close and get tummy rubs. He is also fantastic at traveling in the car when we visit our grown children in California. He listens well and is very smart. He has adjusted well to his new home and we have fallen in love with him!
I have attached a few pictures for you.
The first one shows how great he is in the car. The second is his cat buddy Zane. I hope you are doing well. Thanks again for Tucker!
~Julie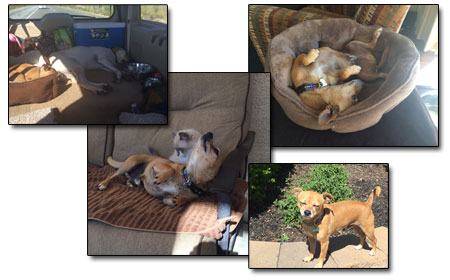 ---
Little Dolly Parton is now Lady Penelope!
Hi kelly!
Just giving you an update on dolly! I renamed her Lady Penelope Smith. She is doing great! Eat, peeing and pooping well! Potty training is going alright. Still a few pee mistakes in the house but that's to be expected. She loves her crate and does well when I'm at work. She is never in there longer than 4.5 hours (unless bed time). She is an absolute doll. Here are some pictures! Hope all is well!
Emily & Lady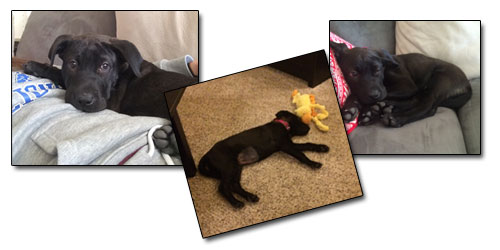 ---
Little Waylon Jenning
Thank you so much for blessing me with such an amazing pup! He loves it here and is adjusting very well. He is very smart and has already learned to sit and shake. He's done it many times (maybe by accident…who knows). I will keep you posted with photos.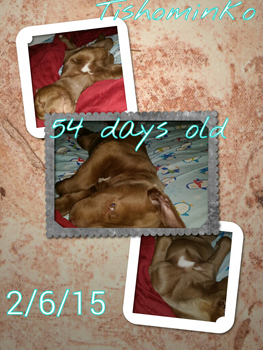 ---
Hambone & Gulliver
Good morning,
Gulliver joined our family the Monday after the Super Bowl in 2011 and we just celebrated his 4th anniversary. We had a senior dog that needed a companion and Gulliver was just the right match for our little fuzzy guy! It was great to see the senior play again. Gulliver is a super sweet boy with amazing manners. He didn't get on the furniture or the bed when he first moved in with us. He has since figured out that furniture is nice and comfy and it is not unusual for me to come home from work to find him lounging on the couch.
Hambone joined our family in June 2014. We found ourselves with only one dog after losing our two seniors earlier in the year. It was easy to see that Gulliver needed a pal. Thanks to the team at Lucky paws, the introduced us to Hambone! I took Gulliver for a meet and greet and it was the perfect match! It has been a very long time since we had a youngster in the house. He is was at home the very minute he walked through the door. He is such a happy guy and keeps us entertained. He manages to do something goofy daily and never fails to make us smile. The complete opposite of Gulliver with the furniture and made himself right at home on the love seat and spent his first night with us tucked in between us in bed.
We cannot thank Kelly and the gang at Lucky Paws enough for bringing these two special guys into our lives.
Thanks,
The Blewett's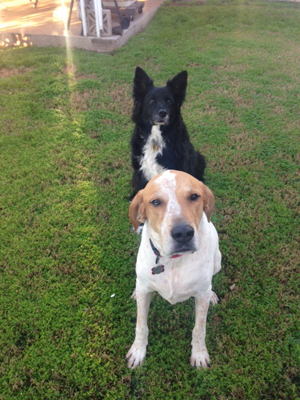 ---
Living in the Garden State now!
Kelly,
You may not remember me, but I adopted Julius (the airedale) from you about three years ago. I want to let you know that he has a very happy home here in NJ. My fiancee and I love him very much – thank you so much for what you do. You really change alot of people's lives (human and non-human) for the better. I will always help any way I can.
Andrew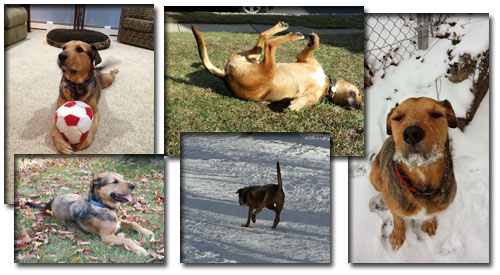 ---
Two years later!
Hello!
I just wanted to share a picture of our sweet pup we adopted from lucky paws 2 years ago! She is Zoey – an amazing addition to our family! We adopted her when she was 8 weeks old and couldn't imagine life without her in it! She is a happy, healthy & thriving young pup and we love her so much!
Thanks for giving us Zoey –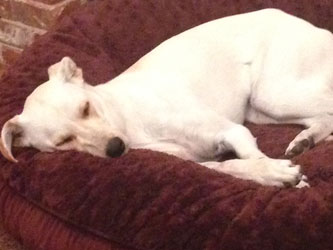 ---
Golden pup has his own pup mentors!
Kelly.
Toulouse is a angel. He uses doggy door from day one. Does not get into anything. Very smart learns fast. Respects Marseilles. (his older brothe) Eats good goes on walks great. Vet says he is healthy. I love him thank u I feel lucky. He fits in so nice. He loves stuffed animals and Playing ball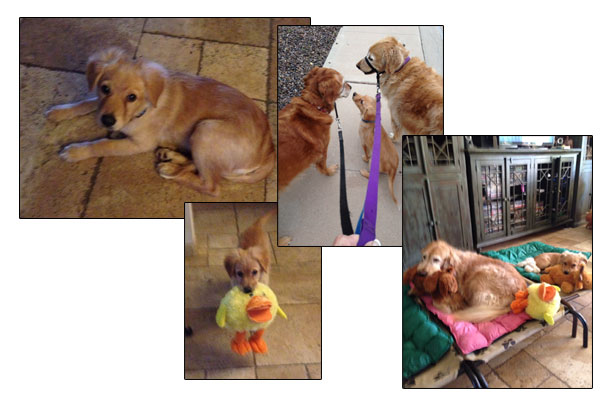 ---
A home for the holidays for Capone!
Hi Kelly,
Our boy and our pup, our daughter took the pic. (Capone is now Mikey!)
Love, A
---
Redford, a shelter favorite, in his new home!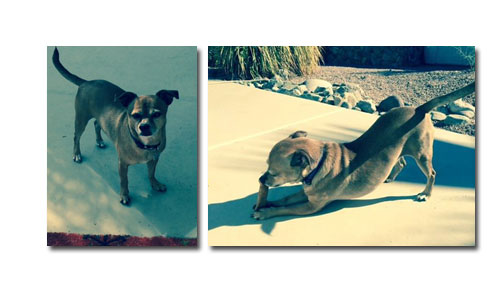 ---
Baby Rhino went from the runt to the king of the bed!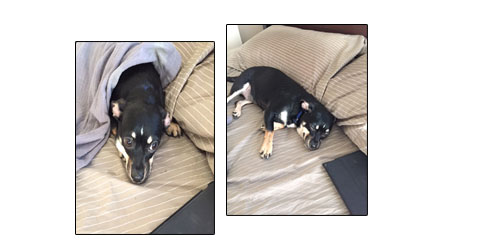 ---
Siblings Salem and Jessie in a new home together!
Hi Kelly,
Things went well with the puppies yesterday! (Salem is now Chuggs and Jessie is now Nellie)
-M

---
Sylvesters First Night!
Dear Kelly and friends at Lucky Paws
Sylvester came home with us today. We stopped on the way to pick up his "cousin" my son's 10 yr old boxer (The dog sitter had a change of plans and couldn't dog sit Kobi while my son is in Mexico) With Kobi in the backseat and newly named Jack (Sylvester) in the front on my lap, Earl and I had an uneventful trip home. No jumping, no barking, no puking. And even the dogs were good 😉
We did stop at the pet store and Jack stole everyones heart. Shoppers and workers alike all wanted to know all about him, where he came from and said how adorable he is. As usual, he was polite, sitting when touched and minding his own business when walking about the store. We picked up some great dry puppy food for him and because he is an adoptee, we were given a 50% off coupon! Score! We also bought chews and chew type toys.
At dinner time, Jack ate his one cup serving of puppy food then also enjoyed a couple of nuggets from Kobi's adult dog food dish before I sternly said "no" and he obeyed walking away.
Jack did have a pee accident after dinner. I was not thinking! He ate his food and drank about a cup of water and because I neglected to take him outside, after about 20 minutes, whoops!
Both boys are now sitting in front of our huge glass windows, watching the sun begin to set in the sky with their eyes getting heavier and heavier and their breathing doing the same.
We will let you know how the first night goes. I'm sure having Kobi here makes it feel more like his home at Lucky Paws, with another dog around, so I don't anticipate any problems. Oh yeah! And he had one good big poo! All systems are a go!
Earl and Dee (and Jack)
---
We Love Buddy (formerly Bryce)!
Giving you a update-Love'n My Family!Hope u get the photos!
love, buddy:bryce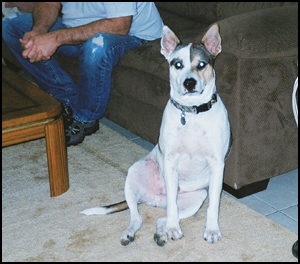 ---
Twisted Sisters <3
Kelly,
Here's a picture of the 'twisted sisters'! L-o-v-e them.
Thanks Kelly,
Elaine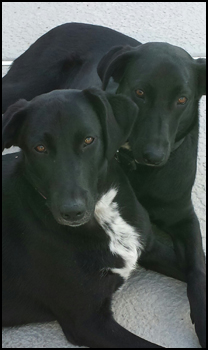 ---
Little Juliet
Thank you so much for Juliet. She is a wonderful dog and Heidi and her are great together. They both are so happy.
Judi

---
Mr. Sly Update!
Hello to both of you,
I wanted to report in on how things are going.
I was a little nervous this past weekend, it seems I forget about the transition phase when introducing new kitties into an established family of kitties. One of our cats (Dustin) was stalking Sly non-stop (our other male) all day Saturday, I felt so bad for Sly and prayed it would let up (feels like forever when they are not getting along). I would give Sly breaks to be alone here and there. By Sunday night I caught Sly and Dustin playing, zooming all around the place pouncing around. They still gave a hiss here and there as they are still not 100% comfortable with each other. As of last night they were pretty comfortable with each other, s till occasional hisses, but doing well. Once Sly got over the ceiling fan issue this other side of his personality came out. He is really frisky and playful. We have to watch our ankles, he likes to play attack them when we are not paying attention. So all is good in the Yontez house.
Thanks, Stacey
Update: Just had to share with you guys. My cat Dustin and Sly who I adopted are now quite the buddies. The beginning was a little rough, but now we catch them playing and cleaning each other. I didn't think Sly would really like my cats so much as to actually lick them, but he does. And Dustin licks him too. It's too sweet.

---
Underdog!
Dear Kelly,
It has been almost a year since we adopted Underdog, and we are as happy as can be with him. He is the sweetest dog imaginable, never barks, behaves well and is a joy to be with. What a character! When he shakes his head and flaps his ears, there is a thunderous sound; and the earth shifts on its axis! He asks for and receives almost constant patting. He is very good about reminding us to go for walks, always thinking of our health!
We cannot thank you enough for rescuing him and caring for him until we found him.
Attached are some pictures of him. He has lost 5 pounds since we got him.
Gratefully,
Mary and Homer G.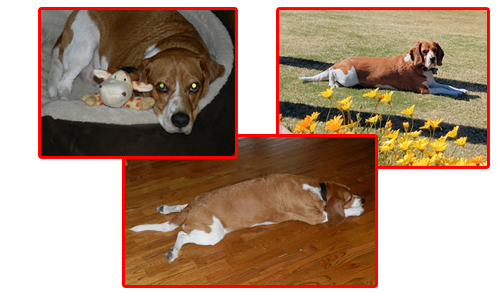 ---
Bluebell & Petey; best friends.
Bluebell was adopted from Lucky Paws and brought to our house for a meet and greet. She did so well her first day that we signed the papers and made her an official family member. Little did we know that her best friend Petey was left behind at the shelter. Once we had enough time to gather ourselves with Bluebell, we called Lucky Paws and adopted Petey to become an official family member as well. Both Stephanie and I have come from dog loving families and this was our chance to rescue two beautiful dogs.
They tug of war every minute they have, and they both know their roles in our household. They love their mom and dad and protect the house like it is their own (because it is)… They love to lounge around the house all day and play with each other. On their down time from playing, Belle sits in her chair overlooking the park behind the house (neighborhood watch) and Petey holds down the hammock (his favorite place to be). At night Belle sleeps at the end of the bed under mom's feet, and Petey sleeps in his "down comforter" bed right at his daddy's side. When we shut the TV off at night, Petey makes his rounds inside the house, and outside the house to make sure we can sleep soundly.
Stephanie and I have been so blessed to have these two dogs in our lives, and we have all changed each other into better humans, and better dogs.
Best Regards,
Billy B.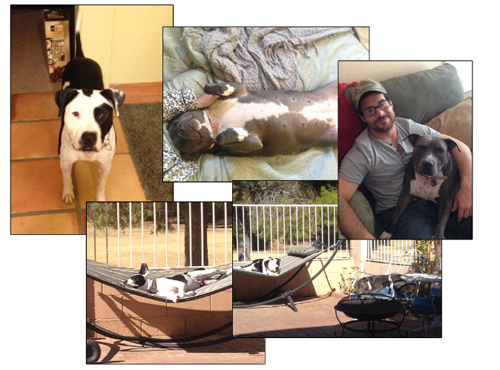 ---
Merlin update!
I'm not sure if you remember Merlin, but we adopted him from Lucky Paws in August of 2012. He had been at your shelter for many months and he has been a wonderful addition to our home!
Here he is, "roughing it" in our king sized bed! He is due for a haircut!
Thanks for all you do for God's creatures!!!
-Jill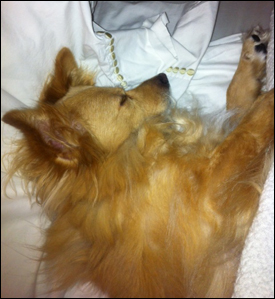 ---
Happy Pepper!
Hi Lucky Paws,
I am now called Pepper and my owner adopted me in 2010. I want to show you that I have a great life!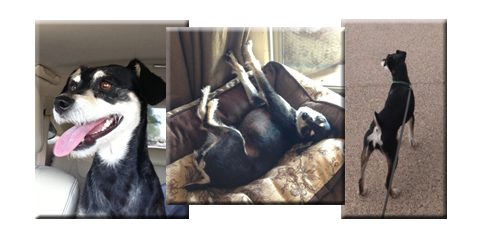 ---
Updated pics of Pumpkin & Paris; adopted together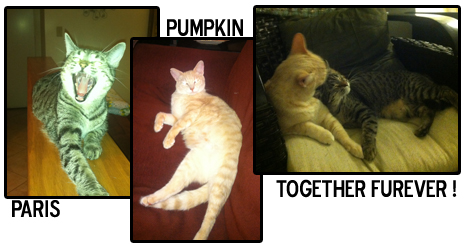 ---
Shelley is a real daddy's girl.
I chose to adopt Shelley… The truth is she chose me that one fateful day. Shelley and I are happy. I wake up significantly earlier to play with her before I have to leave for work. I go to bed earlier, because she tires me out. When I come home there is the happiest young lady who is thrilled her daddy is home to play tug of war, fetch, give her clean water, and let her out because she has been holding it for sooooo long. Thank you Lucky Paws for making this love connection work.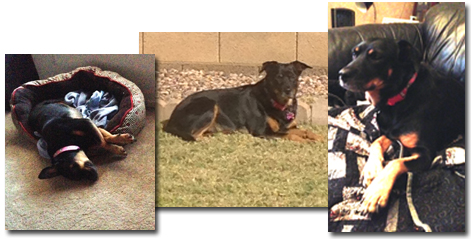 ---
Gabby (now Oetta) and her Family!
Hi Kelly,
I wanted to check in with you and let you know how Oetta (Gabby) is doing. When we adopted her from Lucky Paws I was not sure we were ready for another dog so soon after our dog Lexi passed away. I am so happy to say that Oetta has FIRMLY planted herself in our family. I don't know how to describe it but she is the silliest smartest dog I have ever had! She loves each one of us with gusto, and makes every member of our family think they are her favorite person in the world.
She is doing wonderful in obedience school and has gained just a little to much weight from all of the "love". I have attached some pictures so you can see her now. She looks completely different from the underweight balding scared girl we brought home. Thank you so much for your support, we could not imagine life without her.
Dawn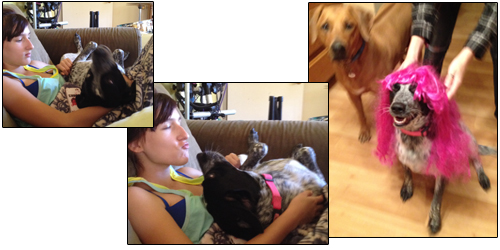 ---
The Girls (Trishla and Jenny)!
Hi Kelly
Just wanted to let you know the girls are doing great.
The only way I could get both of them not moving in one picture was to feed them. Jessie is on the right and Bug is on the left. We're going to have swimming lessons again later today and shots and nails on Tuesday.
I hope all is well with you and we'll be in touch.
Thanks again….they are wonderful, Elaine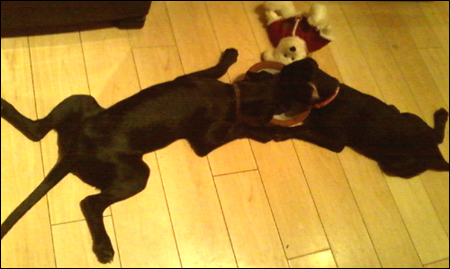 ---
Pumpkin is a Happy Kitty in his new home!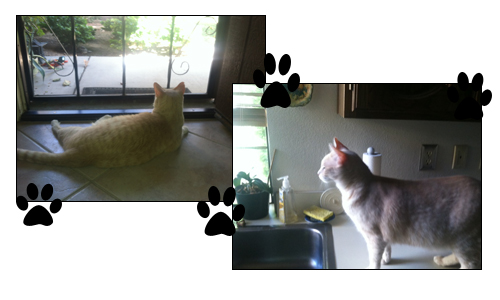 ---
Teacup Franco!
Just wanted to let you know Franco (renamed Raine to go with the rest of our weather named furries) is doing just great!! Windy just loves him (after she got over the initial excitement) and follows him around like she is protecting him. She is the happiest I have seen her since our Breeze passed. And we are just amazed at how smart that little guy is. We just laugh like crazy at some of his antics and he is soooo sweet!!

Never in a million years did I ever think I would fall in love with a little 'rat' dog, but this guy has stolen our hearts and changed our minds about these little tiny guys!!!

Thank you for all you do for the animals. Heaven has a special place for you.

Linda and Chris

---
Princess Mocha: From living in a breeders cage to a home of her own!
Mocha is doing great. More and more she's getting used to us. We both love this little girl, and I think she's very happy here, but it will take time for her to truly relax and come to us on command. She's a good little girl. She spends less time behind the coffee table. Usually lies in front of the TV now so is more a part of the family. She likes to know we're close but not too close. She'll probably never be Miss Congeniality, but that's okay.

Have enclosed a couple of pictures I took this morning. In one she's rolling in the grass. Took her awhile to really put her heart and soul into it, but she does now. Always puts a smile on my face.

Take care, Lori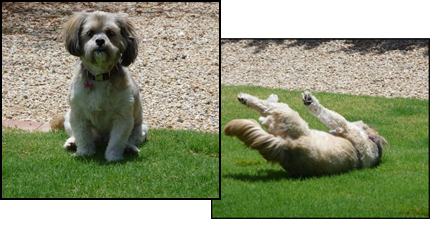 ---
Piper!
Hi Kelly,

Piper is doing great.

Here is a picture of her on the back porch up in show low

Best Regards,
Bruce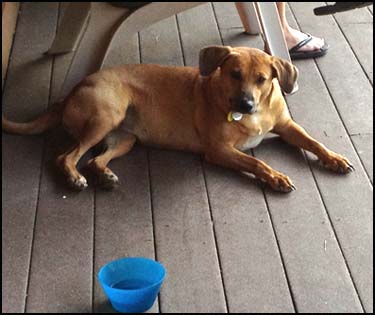 ---
Groucho and Harlow living it up!
hey lucky paws crew that misses g and h!!

Just wanted to let you know that they are doing better day by day. groucho started out on bottom edge of bed and now sleeps with me on pillow. harlow is under the blanket by my tummy. i am attaching a photo of them in the sun which they can't seem to get enough off. racing around the yard is a favorite past time also!!

thank you so much for my wonderful little fur family.

warm regards
wendy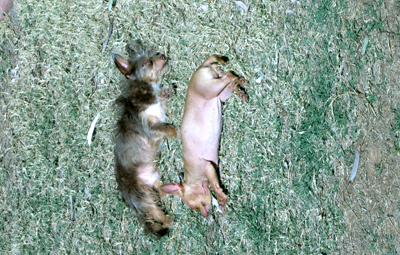 ---
Little baby Rex!
Hi Kelly,

Rex is a wonderful addition to the family. He loves hanging out with BB and Simon and learned quickly to not jump on Simon but to sit next to him. He gets along with the cats and loves playing chase with Sammy cat. Rex sits and comes on command and we have been practicing walking on a leash in the backyard getting ready to join the other dogs on daily walks. Will send more pictures, he is so active every time I get ready to take a picture off he goes on another adventure.

Mary Jo
---
Abby (formerly Tootie) update!
Hi Kelly

It has been just over one week since Abby (formerly Tootie) and I wanted to give you an update. As the attached pics show she appears to be bonded to Dakota (who we adopted from you in 2008) and Zippo (formerly Baby Spur who we adopted from you in 2012), the cats are being good with her too. Abby still seems to be somewhat shy but considering her backstory it is totally understandable and we are working with her to become more comfortable wtih human contact. She is learning that dog treats are a good thing, that dog parks are fun to run around in, and that playing with toys is fun too. I will keep you posted on her progress and thank you again for giving Damon and I the priviledge to adopt yet another amazing dog from Lucky Paws.

Leanne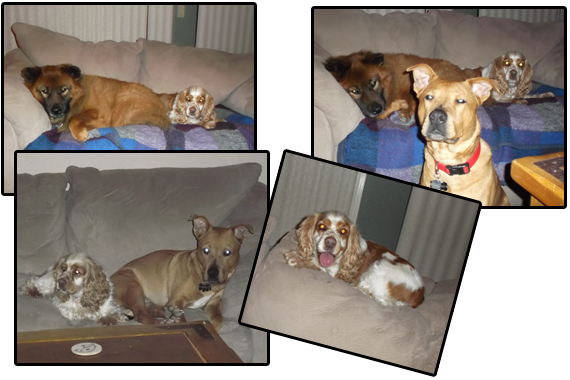 ---
Boston, still doing great after 2 years!
Hi Kelly

Here are a couple of pictures of Boston. I have to tell you that he is just the sweetest boy. I can't tell you have much I love him and how grateful I am that you allowed me to adopt him, knowing at the time I was in an apartment. Happy to tell you I bought a house in Chandler about a year after I adopted Boston. The house has a good size backyard and a pool which as you can imagine is Boston's pool.

Shortly after moving into the house, I saw a posting on Craigslist from a couple who had lost their home and couldn't keep their 6 month old female lab. Of course I adopted her and she and Boston are great together. As expected different personalities but both special in their own way.

I would love to drop in sometime to see you and your new facility and have you see what a wonderful dog Boston is. I see you're open on Saturdays, would I be able to bring Boston down on a Saturday?

Thanks again for all you do and for allowing me to adopt Boston.

Take care, Kelly
---
Baya's humans are getting married!!!
I wanted to pass along some recent photos of Baya. She is such a love!
Lauren and Anthony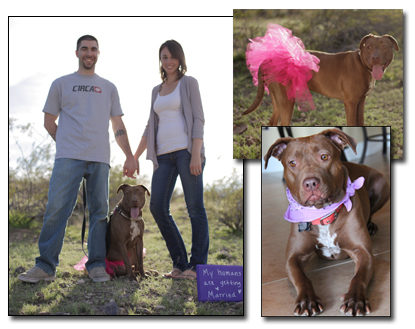 ---
Beautiful Dottie adopted January 2012
I hope all is well. Dottie is doing fabulous. Not sure what I did without her.
-Sabrena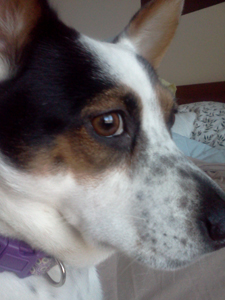 ---
Some more pics of Merlin!
Hi Kelly!

Here are a couple of pics of Merlin whom we adopted back in August. The pics aren't very good quality for some reason so i will try and send more!

Take care-Jill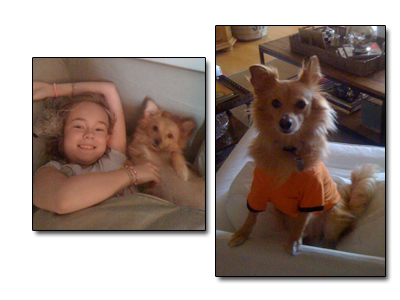 ---
Little Treasure a year later!
Treasure with her little chick she goes everywhere with:) and this one is priceless of Treasure sleeping.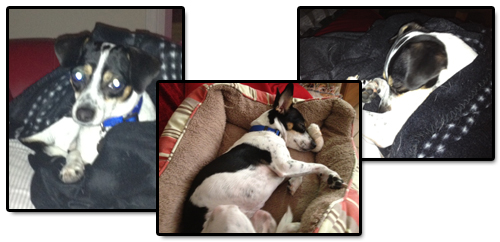 ---
Harley (formerly Taz) is a star pup!
Hi Kelly,

Thank you again for what you do, and for our little Harley. He is a special boy.

Here are a couple of photos I thought you might enjoy.

Fondly,

Laura, Mike and Harley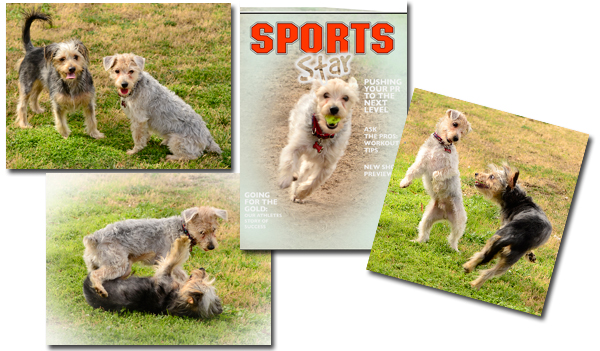 ---
Harlow and Groucho, together forever!
Kelly:

just wanted to let you know that Groucho and Harlow are doing real well. They are so in awe of the space and the new environment.Taking to it so well. in particular, Harlow loves the open large cage with covered sheet and dog bed cave, Groucho loves my bed. Have them baby gated off from cats and doing slow intro. Little fur balls didn't eat much but I suppose that's to be expected. Plenty of water and peepee and poopoo so doing great on that front. Will keep you up to date. Thank you so much. I ADORE THEM!

Take good care, Wendy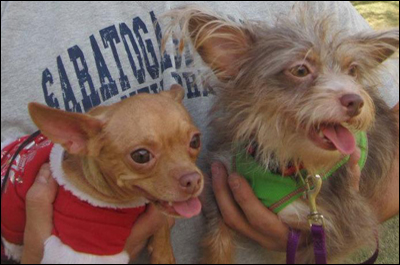 ---
Beautiful Daisy, now Lucy!
Hi Kelly and Michele,

As promised, attached are pictures of Lucy (formerly Daisy). We love her and she fits in perfectly with our family. Thank you for rescuing her. She was lucky to cross your path, now ours.

Ava had fun today walking the dogs. We will be back again soon.

Thanks, Sonia and Ava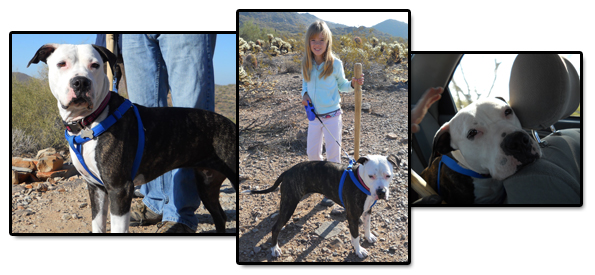 ---
Kitty is now Penny!
---
Stout was adopted in 2010!
Stouty is sooo funny, she brings a whole new life into the home!! She has us laughing every day!

Happy Weekend!
Kay Lee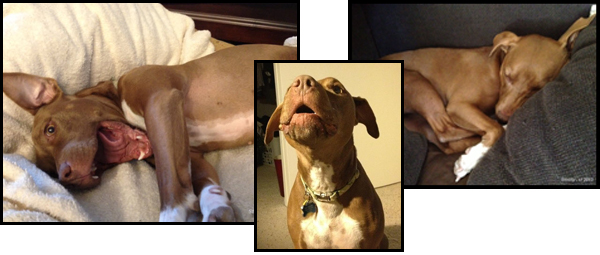 ---
Barley (Rascal) in his furever home!
Hi Kelly. Hope your holidays were nice!

You may recall that we adopted Rascal (a Wheaten/Border Terrier mix) from your Thomas Road facility in early November. FYI: Shortly afterwards, we changed his name to Barley on account of his Wheaten background and coloring.

You may also recall that when we adopted him, you or your assistant had suggested for us to email you a few photos of him and our Golden Retriever/Australian Shepherd female getting along in his new home (our house). Until Christmas, this has been challenging because Barley is somewhat camera shy and usually runs when I try to hold up my iPhone to take a picture of him. Until Christmas, I've only been able to take a limited number of pictures of him for this reason. Fortunately, this Christmas morning, I was able to take a few good pics of them together receiving Christmas presents we gave them. We just thought we'd share these (please see attached).

Thank you for the opportunity to give Barley a good new home. He's truly a very happy boy and loves us and his new home a lot (as we do him..he's already brought us much joy!).

Thank you for all the great work you do at your facility, take care and have a very Happy New Year!.
---
Johnny the Cairn Terrier mix was adopted!
All tuckered out after a visit from Santa!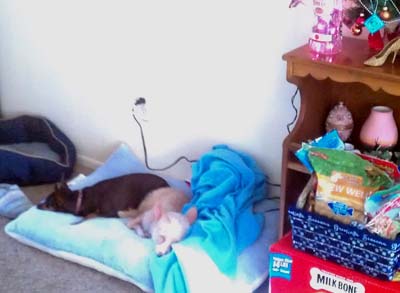 ---
Thumper home just in time for Christmas!
Hi Kelly,

Here is a couple of pics of "Thumper", we have named him Tyrion Geoffrey – Tyrion from our favorite show Game of Thrones cause the character is a lover not a fighter (which he so is) & Geoffrey cause his long neck, giraffe like pattern & mostly cause he turned our frowns upside down.

He loves the cats, they are not returning the love just yet, and he has selected all of the couches as his favorite sleeping spots – lol! He's amazing, great temperment & super smart.

Thank you

Cristina Byrd-Brown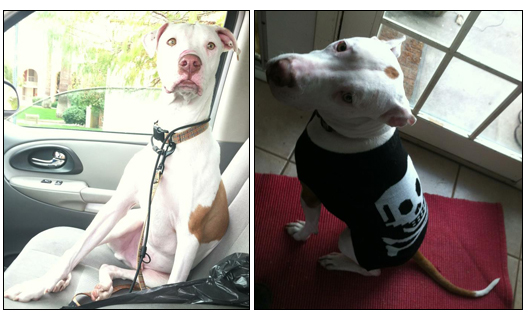 ---
Rudy the adopted Jack Russell and his new brother Fritz!
---
Piper has a new home for the holidays!
My wife just adores Piper, and she loves her new home.

Here are pictures on her bed, and wearing her Georgia Tech shirt.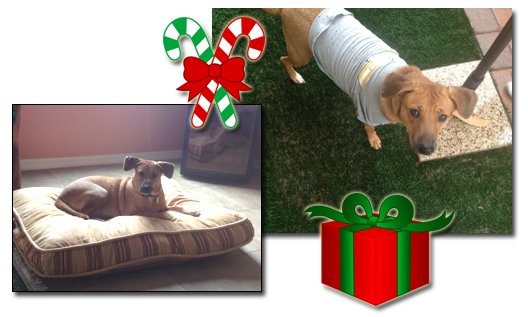 ---
Landon is now Bennet!
So sorry this took so long! I've been swamped… I've attached a few photos of Bennet. My favorite is the one of him on his 2nd birthday. 🙂
– Elizabeth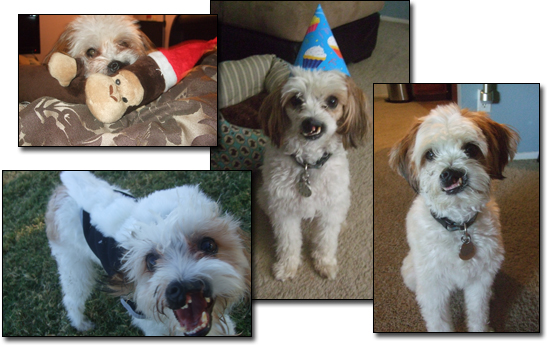 ---
It's a Bryce Update!!!!
(now Buddy)
We will stop by sometime. We sure do Love Buddy! He is soooo Lovable and Smart! Hope all is well there!
– Jim ,Dana,& Buddy 🙂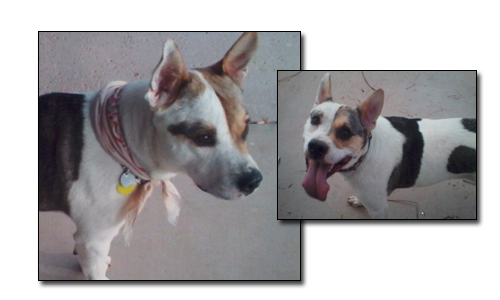 ---
BoJangles – From living in a breeders cage to freedom!
Lucky as he is now called is doing very well. He is wearing a diaper in the house so he doesn't mark. he just had a bath so looks like a white fur ball. over the last 2 days is really started to be playful with me and with our other dog. He love the attention and is really starting to make this his new home. We will keep in touch and send some new pictures later on.
Kramer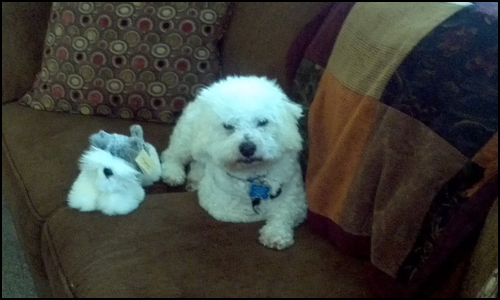 ---
Little Aggie now Kelsi!
Kelly,
Just wanted to send you an update! We decided on the name Kelsi. She slept straight through the night, and is adjusting very quickly. We are so in love with her….she is too sweet for words. Thanks again!
Best wishes,
Melanie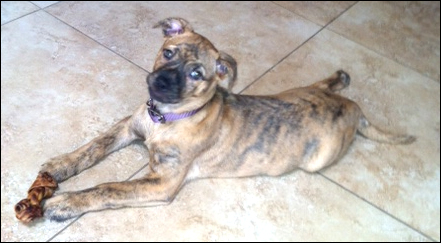 ---
The boys (Shooter & Jagger) in their new home!
Hi Kelly,
Thanks for the call today. The boys are adjusting well to living at my place. Pretty home sick the first night but are really happy, playful, and loving with each other.
Called the vet you recommended and they are getting rabies and last 4×1 on Friday morning. Thank you for giving me that info.
First picture is the discovery of their reflections. Was hilarious to watch them learn.
The rest are just cute shots of them playing. Of all the chew toys they choose a stick from the yard to play lol.
-Lucas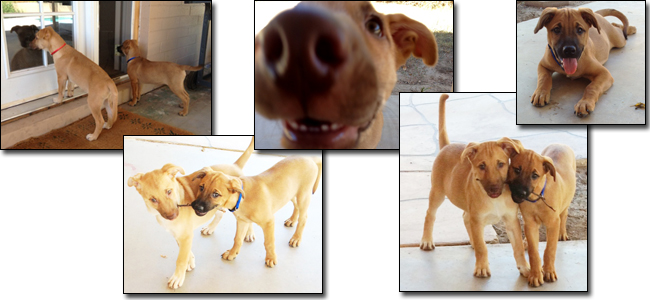 ---
Sibling pups that are adopted together play together!
Kelly,
She (Arielle) dives in nose first and blows bubbles as she attacks the leaves, it's hysterical. He's (Scrappy) a little more subtle with his entry, but plops down to chill for a bit.
Benefits of having these two in our home:
1. We will never need Q-tips again, but will have the cleanest ears on the planet.
2. If we ever need to clean up teeny, tiny spills, they are more than happy to make teeny, tiny pieces of paper towel to accommodate them.
3. Cleaning the floor will be so much easier as they love running through the pool, soaking up as much water as possible, then distributing it throughout the downstairs.
Wouldn't have it any other way!
-Marie D.
---
Kandi Update!
Hi Kelly:
I hope things are going well over @ Lucky Paws and you're finding gr8 families to adopt your animals.
Kandi is doing really well. We are settled in Delray Beach. Because of an accident I had, Kandi qualified to be my "service dog" so she goes EVERYWHERE with me. She esp. loves the beach- she runs in the water and lays in the sand.
I wanted to send you a picture of Kandi graduating from "intermediate" class.
Mara' & Kandi Cane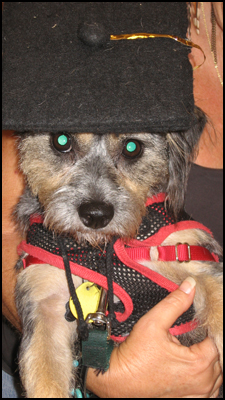 ---
Merlin and his big sister!
Merlin and Lucy are already best buddies!
Thanks!!!
– Jill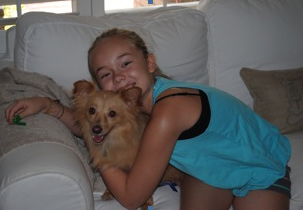 ---
Recent photos of baby Bon-Bon (born April 2012) in her new home!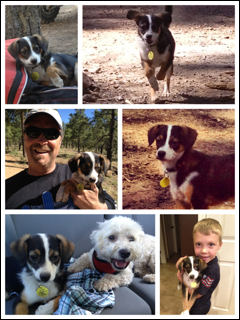 ---
Baby Spur, now Zippo, is growing up!
Hi Kelly!
Damon and I wanted to give you an update on how Zippo (formerly Baby Spur) has been doing since he became a part of our family this past April. Zippo has graduated from Level 1 Puppy class and will be starting Level 2 in the near future. He continues to be very gentle with the cats, bond with us, and play with his big Brother Dakota. Zippo is a perfect fit for our home! Thank you again for allowing us to have Zippo be a part of our family.
Right now he is racing around the house doing circles playing with Dakota, he has so much energy! Thank god for having a house with tile and hardwood floors. We are hoping that he can become a certified therapy dog in the future. He is so friendly and laid back with kids. We still miss our 16 yr old that passed away in March but are very happy to have Zippo in our home. I hope all is well with you and Lucky Paws! Let us know if there is anything Damon and I can do to help your group.
Leanne and Damon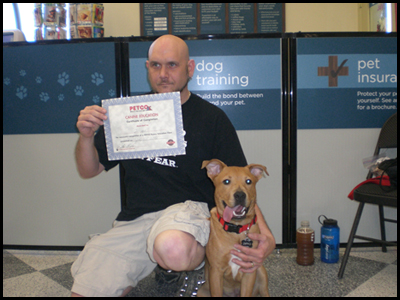 ---
Roscoe (Picasso) almost a year later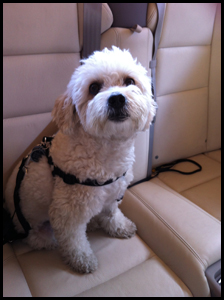 ---
Little Francesa the black and tan terrier is now Lolo!
Hi Kelly,
My family had so much fun at your event last weekend. Francesca (now Lolo, we think) is getting along with the other Cairn terrier! My parents absolutely love her, walk her twice a day, and are just totally spoiling her! I attached a picture of her and Lucy (my brother's dog that my mom is watching). Better pictures to come!
I hope all is well on your end and lots of people are getting ready to eat at Oregano's on the 8th! What you do is amazing and I am so glad to have been connected with your organization.
Have a great weekend!
Kristen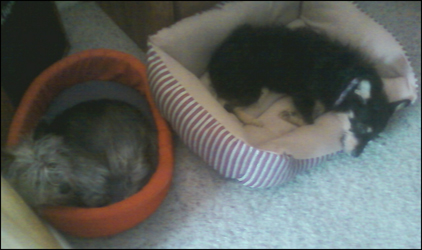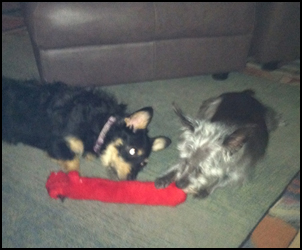 ---
Our Darling Wendy!
Hi Kelly,
Wendy is getting along very nicely. She is bonded to me and follows me everywhere I go. She is walking better on her lead – she still pulls but responds when I stop. We walk twice daily for 45 – 60 minutes. I am keeping her away from cars on our walks until she builds some confidence in me and in herself.
She was afraid of joggers and bicycles, but seems past that (for the most part) now. A couple days ago she slipped out of her collar – my fault, it wasn't fastened – when we were walking on a golf course. I called to her and she froze, laid down and waited for me to come to her… good girl Wendy!
She's eating regularly and enjoys watching the door and barking at passersby. Good to know she see this as her home. She has a great bark!
We meet dogs on our walks and she is great with them. She's a little tentative around new people but warms up quickly. I have us enrolled in Petsmart's "Beginner Education" program starting July 6.
Everyone who meets her loves her.
-George

---
A quick check-in by Bryce (now Buddy)!
He is very happy. We love him so much
-Jim & Dana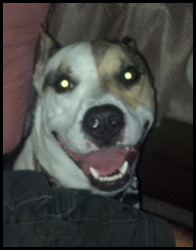 ---
A happy bunny!
Just wanted to send some photos of Lily. 🙂 She is doing great and is well attached to my mom, brother, and I. She loves to run as fast as she can around the living room and jumps up on the couch to see her new friend Ham, the guinea pig. Her favorite treat is apple, she freaks out! Thank you guys for rescuing her and all the other great things you do, I love volunteering there!
-Sara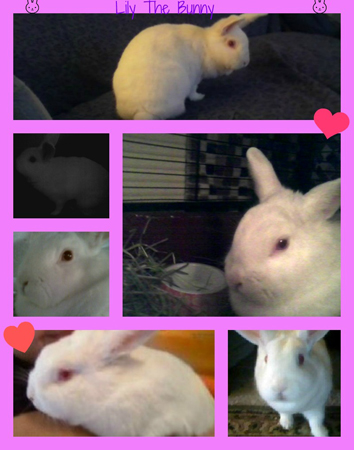 ---
Ozzie at his new home and office!
Hi Kelly,
Just wanted to send you a quick note to let you know how well Ozzie is getting along! He cried for a good bit after we left you yesterday so I was a little worried, but after a bit he calmed down and has hardly made a peep since. I am at my office now and he is with me. Everyone here loves him to pieces… he cuddles with anyone who wants to cuddle. We had a great walk this morning… I was surprised at how well he kept up with me. He ate a good meal last night (though was not interested in breakfast), and has enjoyed a few dog treats here at the office. Hubby adores him, and the feeling seems to be mutual. He is just a precious little guy, and smart! Can you tell we are happy?
Thanks so much for everything. We will pop in to see you one day soon. I'll email you ahead of time to see what you might need in the way of donations. Oh, and I'll see if I can get one of my friends here at the office to take a pic of Ozzie and me and I'll send it to you!
All the best,
Margie (and Steve, and Ozzie)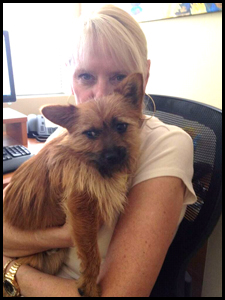 ---
Chevy, now Jaxx!
Kelly,
My boyfriend Tony and I were the ones that adopted Chevy from you, and I just wanted to give you a follow up email on the progress of Chevy, aka Jaxx. :o) Jaxx is doing very well adapting to his new home. He is such a great dog, and follows us around everywhere we go. Jaxx is doing very well on his potty training, he has fewer and fewer accidents in the house each day, and he has also learned how to sit and shake and knows he must do these 2 things prior to getting a treat each time.He is the best dog and we are very happy that we found such a great dog like Jaxx. Thank you so much! I have attached some photos, I hope you like them!
Thank You, Crystal Allen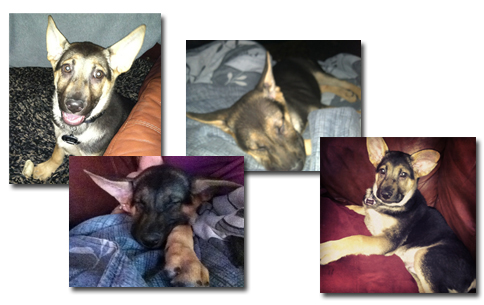 ---
Little Ludwig is all settled in!
Kelly,
I visited Lucky Paws during an open house in April and fell in love with "Ludwig" and adopted him. His new name is "Toby" which means "God is Good" because God has certainly been Good to provide me with such a wonderful pet! Toby has settled in quite nicely and has never barked during the night. In fact, he doesn't bark much, which is rare for a small dog. He walks me 2 to 3 hours thoughout the day, which I really need! It means early to bed, and early to rise because of the heat. Attached is a picture of how Toby fluffed up a blanket I have on the sofa, to make himself a pillow! Toby had no problems adjusting to eating and his habits are very regular and predictible. It really helps to spend a lot of time with our pets and get to know them, especially when they are new to our homes. Thankfully I can do just that that since I am retired! Toby is very happy in his new home and we are very grateful to Lucky Paws for giving him another chance. I highly recommend Lucky Paws to others and thanks for the service that you all do there! Toby also thanks you from the bottom of his heart.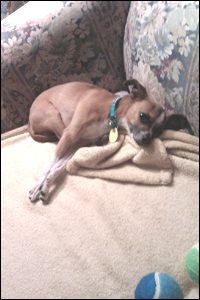 ---
Shamus the Puppy!
Hi Lucky Paws –
I was adopted April 14 and immediately missed all of my brothers and sisters, but when I got to my new home I had a big dog named Kinko to run around and play with. Kinko reminds me of an all black colored version of my Momma. I also have two kids and a cat to play with. My owner likes to walk me around the neighborhood with Kinko and we get to hear all of our neighbor dogs say "hi." Lately the walks have been turning into runs and I like that. Thanks for finding me such a cool family! I will update you again later when I grow up more.
Shamus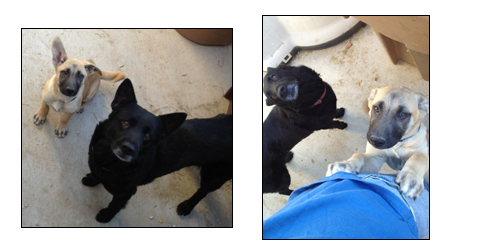 ---
Baya (Houston) Graduated!
Hi to all of my friends at Lucky Paws! I graduated my beginners class at Petsmart!! My Mom and Dad are so proud of me.
I will write back soon xoxo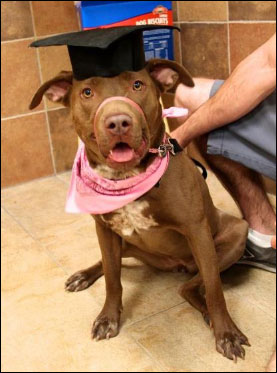 ---
An update on Dottie
Hi Kelly,
Just wanted to send you an update on Dottie.She is doing so well and is such a joy to have around. She loves to play with her toys (especially when it is time to go to bed). She loves long walks to the park and is getting much better around other dogs. She was barking at any dog that was around while she was on leash but she barely gives them a second glance these days. She minds well and loves to play fetch. I even took her out to the lake a couple of weeks ago and she enjoyed the water. We hope to take her camping in the next few weeks.
Just wanted to give you and update and send a recent picture. Hope all is well.
Sabrena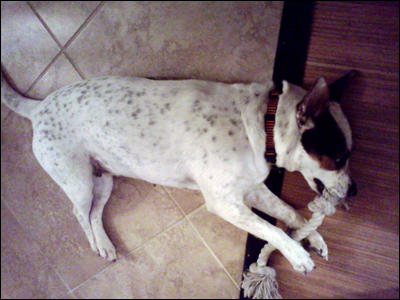 ---
Baby Spur in his new home
Hi Momma Kelly!
It's me Zippo but you used to know me as Baby Spur. I wanted to give you an update as to how I have been doing since coming to my forever home. I am so happy here! I have lots of toys and rawhides to chew on, and a backyard to run around in and play chase with my big brother Dakota (one of your rescues from a few years ago). The kitties that live here are being patient with me as well. Thank you so much for helping me find my forever home.
Love, Zippo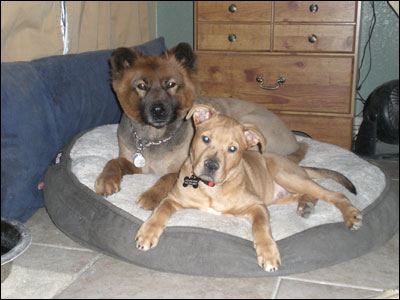 ---
Bryce!
Hi Kelly,
I love my new family. You know me as Bryce. My new name is Buddy because everybuddy loves me.
Jim and Dana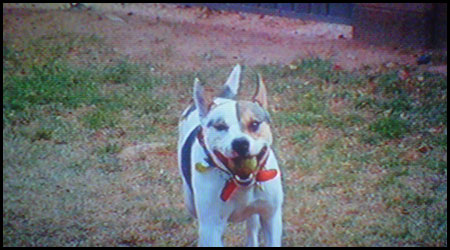 ---
Tabatha in her home with her new best friend furever!
Kelly,
We can't express in words how much we are in love with little Kizmet (formerly Tabatha)! She is the sweetest dog and has fit right in with our family. She has a contagious smile, is always happy and wagging her tail, loves belly rubs and walks, and best of all, is our little daughter's new best friend. Even our cat likes Kizmet!
Thank you so much Lucky Paws for the amazing work you are doing for animals in our community! We are ever thankful to you for rescuing Kizmet and keeping her safe until she found our home.
Randi and Silas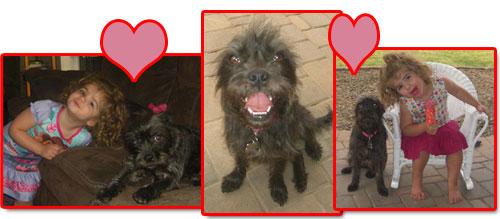 ---
Gold at the end of the rainbow for St. Paddy's Day!
Kelly and Michelle,
Here are some pictures of O'Malley (previously known as Ike) now that he has joined our family. He and our other dog, Jax, also a boxer mix, have become very close buddies. They love to run together, share toys and watch out for each other. Our girls are very excited to have a puppy again and are becoming good dogsitters.
O'Malley seems very happy here and we're happy to have him. Thank you so much for all you do for the dogs. You are both awesome.
Karen and family
---
Balthazar and his sister Marmalade!
Kelly.
Thank you for the voicemail regarding Teddy's food (we renamed him Teddy from Duke Balthazar – he has picked up the name quickly).
He has adapted quickly to life here. I jog him twice daily and he loves wrestling with the neighbor's shepherd.
Attached are pics of him and Marmalade (a previous rescue from Lucky Paws). The car pics were taken on the way home from the dog park. He is absolutely great with people, kids and dogs.
Thanks again!
Keith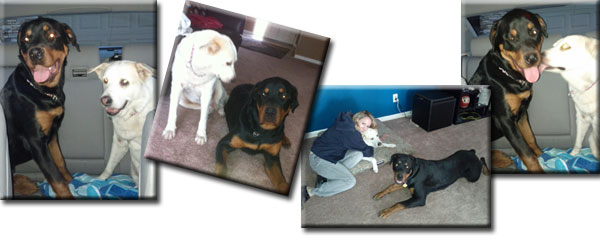 ---
Dottie in her new home!
Hi Kelly.
I just wanted to send you a couple of pics of Dottie. She is adjusting well and is such a sweet girl. She will finally go in the backyard on her own and loves to sniff her way around the park.
Thanks so much for all you do for these animals. They are special.
Sabrena

---
Claire the Rescue had a Birthday!
Hi Kelly.
Today is Claire's first birthday!. Here are two pictures taken this afternoon – one with a "birthday crown" and the other with her new toy.
Jim

---
Who says you can't love a pit mix??
My name is Baya
(those at my old home knew me as Houston).
I am settling in very nicely with my new Mom and Dad. They shower me with tons of kisses and hugs. Every weekend I get to ride in the car (leaving very pretty nose art on the windows) to go on a big hike or to chase my tennis ball around. I get big yummy rawhide bones which I insist on showing off.
I am SLOWLY learning to get along with my ferret brother, Jeffrey and cat sister, Aida. I start my obedience class soon, I know my Mom and Dad can't wait for that. I always end my day with a nap on my parent's bed, it's the best!!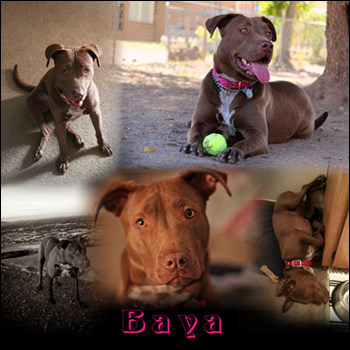 ---
Once used as a bait dog, now a loyal companion!
Hi Everybody,
It's me Captain America. My new friends call me Charlie; I guess I'll go along with it. My new house is great and I'm getting used to it. My friends take me out every day. It's either the park, a nice long walk, a three mile run or hiking Camelback Mountain (I've done it twice so far and I love it).
Tell everyone I said hi and thanks for taking care of me. I'll write again soon.
Charlie

---
Little Hachi
Kelly,
Here is a picture of Julia getting used to her new sister Peanut. We are going to change Julia's name to Hachi after the Japanese dog who would walk his owner to the train station every day when he went to work and then go home. At the same time everyday he would meet his owner when he returned from work. One day the owner died while at work and Hachi waited for his owner 24/7 for years at the train station. So anyway we thought Julia was waiting for us and that's why we are calling her Hachi now.
Thank you so much.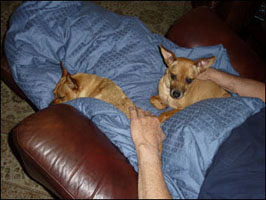 ---
Happy Tail Margot!
Hi –
Margot joined my home just 3 months ago and I can't imagine life with out her. Her cuddles have kept me warm at night and our squeaky toy collection has grown exponentially.
Thanks for saving Margot for me.
Karin Graham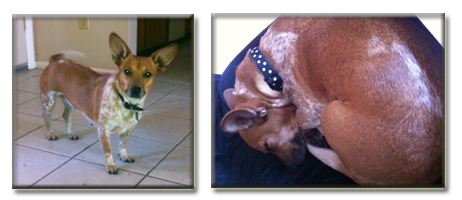 ---
Houston, now Baya!
Hi Kelly-
We are sososo in love with this girl!
Thanks
Lauren and Anthony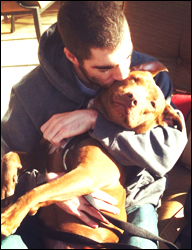 ---
Colonel The Gentle Giant!
Hey everyone,
So it has been about 4 months now and Colonel and I are two peas in a pod…he is really like my son now at this point. You guys were not kidding about how sweet this young boy is! Everywhere I go people comment on how well behaved and friendly he is. When he is around children or smaller dogs he is extra careful and plays down to their level.
So, Toby has become very spoiled since I got him from you guys.
– He gets to go to the dog park 3-4 times a week, long walks on the other days, belly rubs and ear scratching to put him to sleep
– He gets a rawhide bone every other night
– Tons of stuffed animals and balls in his toy box – He only takes one at a time…never more! Smart mastiff!
– He sleeps in bed with me and likes to rest his head on my legs.
– His own couch for naps
– Tons of attention and kisses from me and my friends
I still can't believe that such a sweet and gorgeous young boy was unwanted and homeless when you guys got him. And through all that he still maintained he sweet demeanor….It is my intention for the rest of his days to spoil the you know what out of him…He deserves every bit of it.
I just wanted to let you guys know how Colonel is doing and to thank you for the opportunity to adopt him…I consider myself lucky to be his master.
With Love,
Colonel & Matt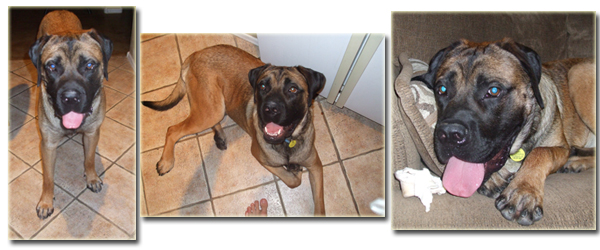 ---
Benji in his new home!
Hi-
Attached are a few pictures we've taken since adopting Leonard, aka Benji. You'll see Harley, our Manchester Terrier and Lenny's playmate, in one of them. They're not professional quality, but I thought you might like to see him in his new home.
Dennis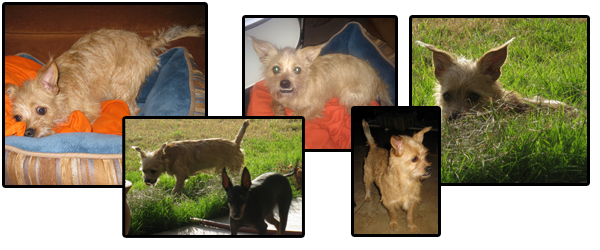 ---
Kizmet all done up!
Hi!
I'm attaching pictures of Kizmet who's name has been changed to Kandi (Cane) as I adopted her 12/19/2011.
She is SUCH A JOY!!! She's a good little girl and is doing very well in "training" class. We are working on "down" but I'm sure she'll get it soon. It only took her 2x to learn "sit".
We will be visiting you tomorrow as there are a few things we would like to donate.
See you then,
Mara' and Kandi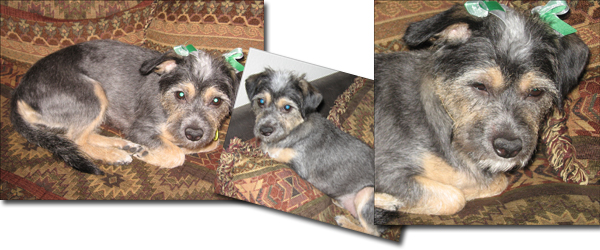 ---
Scooter, not your typical Chihuahua…
Dear Lucky Paws,
I have been looking for the perfect fitting pup for my parents and sister. I came to Lucky Paws and was introduced to Scooter. I've never really been a fan of small dogs, especially Chihuahuas, but Scooter has completely changed that!
Scooter is so mellow and never barks. He loves people and is completely house broken! My parents and sister take him for walks twice a day and he even has his own place at the dinner table!
Thank you for rescuing Scooter and thank you for socializing and giving the animals there the love that you and the workers there do. I truly think the animals there are the best trained ones I've ever met and Scooter is a star example of that!
– Kev.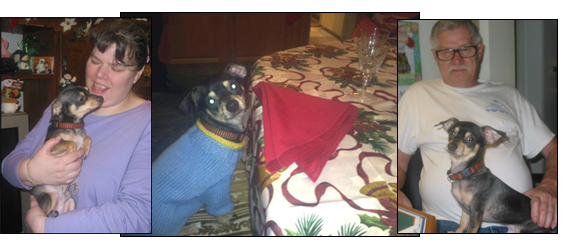 ---
Goldie and Ginger, sisters together forever!
Dear Kelly and helpers at Lucky Paws,
Hello from Goldie and Ginger. We just wanted to write and tell you how our new home is treating us. We have settled in with our mom and dad, our 8 year old twin human sisters and our 6 year old human brother. We are all adjusting to one another quite well. We love our daily walks, playing and chasing each other in the yard and taking naps on our big fluffy pillows. We are in puppy school right now. We are learning to use good manners and hopefully by the end of our lessons we will not be so loud around other dogs. Overall, our humans think we are very special and love us very much.
Thank you for saving us, so our new family had the opportunity to adopt us and love us so much!!!
Love, Goldie and Ginger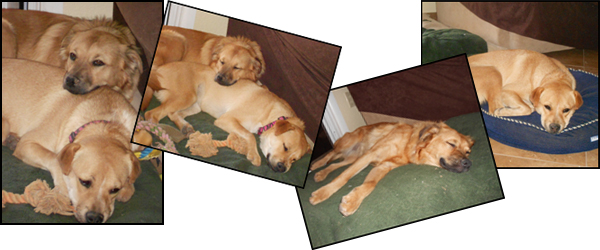 ---
Roscoe the rescue holiday update!
Kelly,
He is just the best dog ever. He has filled out nicely and put on a few pounds.
Hugs,
David and Andrew!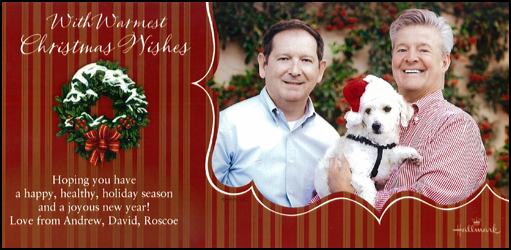 ---
Another Beaula the Rottie Update!
BBB (big bad Beaula) is doing great. It has almost been month now. She is almost in control of everything now. Beaula had settled in very nicely.
I just had a big family Christmas party and she was the talk of everyone. My Little nieces had such a good time with her and my extended family loved her! She was such a loveable and friendly part of the family! ( and these aren't dog lovers) I had a lot of compliments.
It was so funny during the gift exchange that Dieter was tugging her outta the room. Dieter and Beaula upstaged everyone.
Thank You Kelly. Keep up the good work. You are making lives much more manageble with happy puppies!
I know mine is better knowing that Beaula is always there for me.
Bless you! – Wali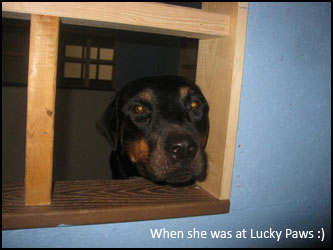 ---
Merry Moosemas!
Greetings from Moose. I wanted to let you know I am doing well and enjoying the good life. I love to wag my happy Labrador tail. I feel much better now that I am on medicine for my hypothyroid. I even have a waistline now!
I enjoy my daily walk and I am even trotting a little bit. Losing weight is good for my hips, my mom gives me supplements and I'm as good as new.
I enjoy hanging out with my chocolate Lab brother and two sisters. I have a big bed of my own.
Thank you for saving me, Lucky Paws.
Love, Moose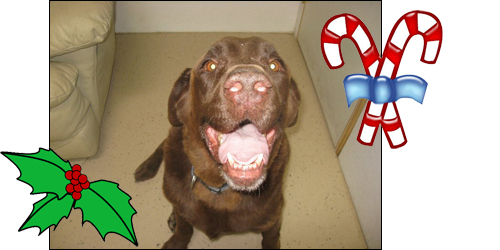 ---
Big Bad Beaula!
Dieter and Beaula (was Charlotte the Rottie) are getting along great! It was rough at fist cuz' Dieter was establishing dominance, He stole her chew toy (which she didn't really seem to mind) and buried in the back yard. Then he wouldn't let her lay down on her new bed. Then he did.
They play rough, but as soon as it gets to a point that I get concerned they stop and follow each other around. Big B hasn't even barked yet.
She is quite responsive, and surprisingly listens well and follows reinstatments. I can tell already what a powerfull and protective girl she is. She is very pushy, but not overly needy. But she really likes to eat feather dusters!
They are always playing ! She woke me up this EARLY morning and licked me face raw to tell me she needed to go out. She slept well at the side of my bed. It is a very active house now. She has a soft mouth and trys to "hold my hand". We are working on breaking that.
So that is the update. Very strong personalities in play, but very sweet so far. I just hope they get tired soon so I can go back to bed!
-W.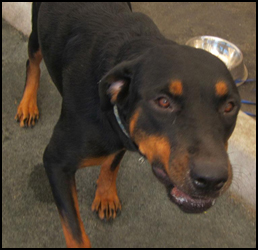 ---
Martini Update!
Hello Kelly,
The new boy has settled into his home and I think he loves it. We walk every morning, which he loves, and he gets lots of treats, eats food very well. He and Bandit seem to get along fine, he loves to play with his toys and he has found his perch on the patio furniture in the sun. We will work on the doggie door this weekend. And, he slept in bed with me last night and loves to be under the covers or in an open crate that has towels that he burrows under which are on top of the egg crate cushion. Not tooooooooo spoiled.
Thank you so much,
Iris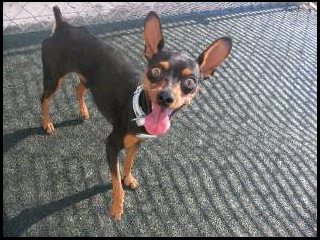 ---
Little Kate (now Frida)
Frida and Keif (Richards) Hooper
As a volunteer at Lucky Paws for the past two years, I have enjoyed getting to know many bright and lovely personalities of the fortunate dogs and cats that have come to reside there. Last spring, I volunteered to bottle-feed a three-day old kitten, who ended up bonding with my husband, and thus we gained a new cat – Kief (the kitten formerly known as girl Zadie), whose history involved mistaken gender identity for the first five months of his life.One afternoon this summer while helping clean out the dog bedrooms, I came across a giant pair of ears attached to a small, very worried little dog. Something about her just got into my heart, and several weeks later, I was able to bring her home. Within minutes of her entering the house, Kief had adopted her. Although she started out as Kate (as in Kate Spade), she quickly demonstrated to us that she was not interested in lapdog stuff – no clothes and no cuddling for her! We named her Frida and learned that she eats like a horse and races like a jackrabbit.
Frida loves to go to the dog park, where she instigates the big dogs to chase and roughhouse, but tones it down for mild or smaller dogs. She passed her basic obedience class with flying colors. Her ears remain as huge as ever, although the rest of her has grown a little bit into them. We call them her radar – she can hear the first crinkle of a cellophane wrapper from a half mile away.
While Frida finds cuddling a worrisome activity, she loves to be inches away – the heartbeat at my feet. Frida and Kief roughhouse and occasionally cuddle at this point in their young lives, but we look forward to having them as our entertainment team for all their years to come.
– Sharla

---
From being shot by a paintball gun to now having a loving home!
Hi Kelly and crew,
Just a short note to tell you that Picasso…now called Roscoe Picasso Greskovich Gill, is happy and well at our house here in Scottsdale. He is the best dog I have ever had. He is either very smart or had some training in his former life. Attached is a picture after his first grooming!
All of our family loves him. He does try to hog the bed though!
Best,
David Gill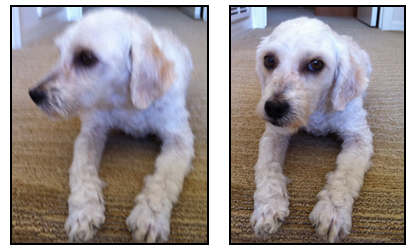 ---
Hello from Erin (Trixie)!
Hi, Kelly!
It's me, the dog formerly known as Trixie. I've asked my new mom to write you with an update about my new home, family and life.
First off, my new humans renamed me Erin because of my Irish Wolfhound heritage; they engraved tags with my new name and their contact information and attached them (and my license and microchip tag) on a new blue collar. I have 4 canine sisters – one of them is pretty old and doesn't play much anymore; the other three are small dogs and can't play as rough as I like to play. So, my humans play ball and tug with me several times a day. It's a lot of fun, and we all get needed exercise and bonding time! There is also a critter here called a cat – boy does she smell different (if you know what I mean)! Over the past 3 weeks, I have learned through instruction and attention re-direction that she is not a toy.
We have a regular twice-a-day feeding schedule with small treats at my human's meal times. My humans think that I am an ideal weight and try to keep me there. They took me to visit Doctor Rick, who gave me a clean bill of health. He wants to do blood work in a few weeks to make sure that there's nothing wrong that he can't see. All the young women who work for Doctor Rick and his partner, Doctor Dave, showered me with attention, kind words and beef treats! They told me what a gorgeous girl I am, and stuff like that.
My new mom and dad give me lots of kisses, hugs, pats and rubs. I get to sleep on the furniture, bark at the neighborhood dogs or passers-by and track mud into the house and no one gets mad. Heck, they even laugh at the "fort" that I built between and behind two oleander bushes. I'm still kind of getting use to not getting in trouble for doing what comes naturally to me – my folks seem to understand a lot of that stuff. I think that I'm really a lucky girl. When I first met Doctor Rick, he said that I had found a good home – and I think that he's right on!
We occasionally have bumps in the road, but both of my humans believe that bringing me into their home could not have gone much smoother – they're a great team, my humans, and I am lucky that we all found one another.
Your friend,
Erin (Trixie)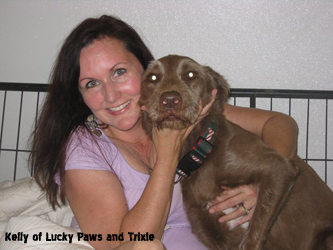 ---
McDuff is now Cullen 🙂
Hi Everyone,
I just wanted to let you know that I have a new home and I am happy. I miss all of you, but I love it here.
I have a new name. It is McCullen. It is Irish for "son of a good looking lad." They tell me I am named after the famous Irish Mathematician Fr. James McCullen. My new owners thought that it was a little like my old name and a little like a new name. They are calling me Cullen, and I go to them every time they call me. I rode in a big truck to go to my new home. We stopped at a store to pick up new supplies for me. I even met a nice lady that groomed me. Everyone is telling me how good I am and how lucky my owners are to have me. My owners keep telling me how awesome I am.
My new home is wonderful. It is very comfortable. I was a little skittish when I saw my reflection in a mirror. I kept barking at this unfamiliar dog. After a while my owners put a pillow in front of the mirror so I couldn't see myself. That made me feel better. Now I know that everything is okay.
I also learned a new trick. I learned how to go up and down stairs. The first time I saw the stairs I wanted nothing to do with them. They looked so high. It took a lot of coaxing before I would take my first step up. Then I took one more step up. I stayed low and went up slowly. By the time I got to the top, my new owners were cheering for me and hugging me. I was so proud of myself and I gave lots of kisses. It was fun. Pretty soon I had to go down the stairs. That was even scarier. But I mustered up the courage and took one step at a time with my owner. Now, after only one day, I can go up and down stairs with no problem.
Last night was a bit frightening. It was thundering and lightning and windy for the entire night. I wasn't sure if I should be concerned. But my new owners made me feel safe. I slept in their bedroom. I found a cozy spot that I think will be my new bed. They kept checking on me to see if I was okay. I have been very good and I let them know when I needed to go outside.
I took a walk this morning. I also got to explore my new yard. Next week I am going to see a doctor for a checkup. I am so happy.
It is very quiet here. I miss all of my friends at Lucky Paws. I think I am going to miss all of the action. So, even though my new name is Cullen, I will always be McDuff to you.
Thank you for finding me a new home. My new owners want to thank you for helping them find me too.


---
Update on Landon
Hi there,
I've had Landon for 3 weeks now and I wanted to give you an update. He's doing really well — settling in here and getting used to the routine. He loves to be outside, so I've been taking him to the park a lot, and am looking forward to the weather cooling off so he can be outside even more. He's started to bark at noises, which I'm deterring but am happy that he is trying to "guard" what he now sees as his home! 🙂 I've never had a dog that likes toys as much as he does, and he's really silly with them. It's so cute! I've attached some pictures, and most of them have a brown sorta-monkey toy because he is never far from it. He managed to get the head and tail off, but has left the torso in tact and seems happy to leave it be now. Ha!
Thanks for taking good care of him and for keeping him his sweet sweet self!
Elizabeth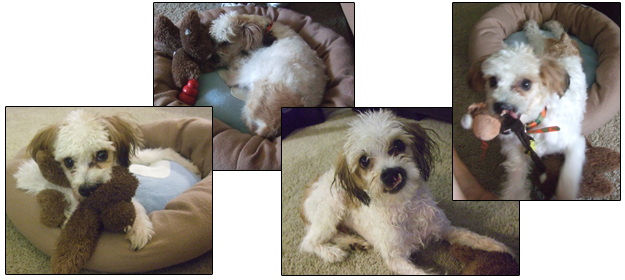 ---
Mighty and Mikey
Hi Kelly,
I just wanted to let you know that Mighty and Mikey are doing awesome. They are so loveable! Mikey is a boxer that you nursed back to health and we fell in love with when we came by Lucky Paws. Mighty is the Min Pin. that we came in for and ended up taking both. They are inseparable. We have had them since Jan.1 2010.
Thanks. I just wanted you to know how they were.
---
Henry!
He [Henry] is really adjusting great. We are all very happy to have a bigger family. He is very happy and sleeps peacefully, just gets up to check on the kids!
Thank you so much!
– Henry's new parents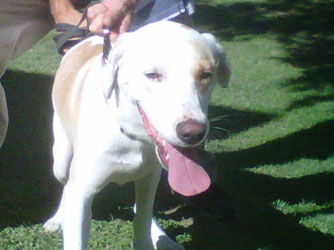 ---
What is Lucky Paws ?
By B. Terry Fitzpatrick
I asked Kelly Perry what IS the mission of Lucky Paws is and she handed me this:
"Why Rescue? I look at all the caged animals in the shelter…
the cast-offs of human society.
I saw in their eyes love, hope, fear and dread, sadness and betrayal.
And I was angry.
"God" I said, "This is terrible". 'Why don't you do something?'
God was silent for a moment and then spoke softly.
"I have done something," was the reply.
"I created You"
~ Author Unknown
Animals lift our spirits.
They play, they bark, they meow, they are physically active, they are curious, they are sad, they can be loyal and a complete pain…they are complicated and loving, a kind of unconditional 'love' that we see so little of in our current political and economic climate.
And as anyone knows who lived here in Arizona knows how challenging the period we are living through is.
Backstory:
I had gone down to Lucky Paws to 'interview' Kelly Perry, the manager of Lucky Paws Shelter. Kelly and a group of amazing volunteers contribute to the mission and the spirit of this enterprise. It's the group and the commitment that makes this work.
I was planning on taking photographs, seeing the new facility, meet the animals, and walk around. Lucky Paws was of activity, building new homes for the dogs inside the shelter, with many dedicated craftsman and local carpenters, dog walkers busily working to get this new facility ready for the "Grand Opening" on Saturday April 9, 2011, 4-7pm. I ended up staying for three hours and I left with George, a small compact, black laborador mix! George was very shy and when we got home, he spent the next two hours in my closet, and then found his safe spot in the northwest corner under my Japenese tatami bed. I took him out for walks, didn't push him or poke him and just let him be and get used to me, my smell, my apartment, listen to the birds.
Two days later when I went back to pay for George, happily I might add, I said to Kelly, "I think George needs another animal as company. NOT another dog right now. Do you have a suggestion for a cat?"
I left with Butterz!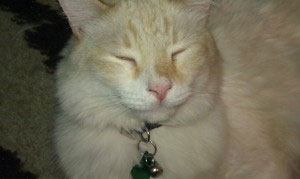 ---
Moose
The picture of the handsome boy on the right side of your home page is Moose (formerly known as Conan). My husband and I adopted him after I volunteered as a dog walker for one afternoon. I haven't been back since as my husband is certain I'll bring home more dogs and I'm pretty sure he's right.
Until about a year and half ago, we'd always had dogs in our home. After our last dog passed away at 15 after a slow decline in health, I wasn't sure I'd ever be ready for another dog. One afternoon I decided to volunteer as a dog walker at Lucky Paws. As soon as I saw Moose I knew he'd be going home with me. He seemed like a big lazy oaf for the first few weeks he was with us. We didn't even know if he knew how to bark or not. Boy, have things changed over the last 6 months! Moose is a big clown and everyone who meets him falls in love. He's brought so much happiness and life into our home and we're thankful every day that we were lucky enough to bring him into our home.
– Cassie
---
Senior Dog Finds Happy Home
Jezabel is a very old pomeranian who had little chance of making it out of the shelter alive. Here is a note from a friend of Monica, who adopted Jezabel. Monica fell in love with her picture on Pet Point and adopted Jezabel. She said that even before she met Jezabel, her heart had adopted her.
"She is in good hands now, and I am helping Monica with networking to visit a Vet and getting her back to good health. Cristina Peterson has been amazing in helping with Vet fees and transportation, Monica was totally overwhelmed by the help given by Cristina; what an amazing lady she is. Monica and Jezebel have already bonded and the attached photo I am sure will make you feel very happy to see her."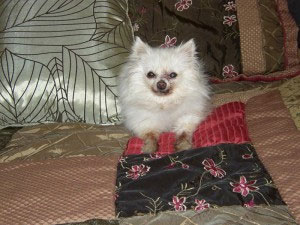 ---
Fluke's Adoption
Hi Kelly,
Thanks again for saving Fluke. He is such a sweetheart, everyone loves him. The trip home was uneventful, Fluke slept most of the way. Here at home he follows Julian (my son that was with me) around wherever he goes). They take walks, play or Fluke watches him when he plays on the computer. Last night, when Julian went to bed, Fluke decided to go upstairs with him amd sleep next to the bed. When he is not with Julian he follows me. My younger two boys also like him very much. He is very gentle and snuggles with the baby (16 month). He does not bark at all (at least not yet).
We did find that he is extremely scared of all men and will not come near my husband or any neighbor he met outside. I can only assume that he was abused by a man. When my husband is not looking, Fluke walks up to him and sniffs his leg. I bet he will come along.
Fluke seems happy and content to be around a family all day and does not want to be alone.
Below is a picture of Fluke and my older two boys.
Thanks again.
Have a wonderful day.
Judy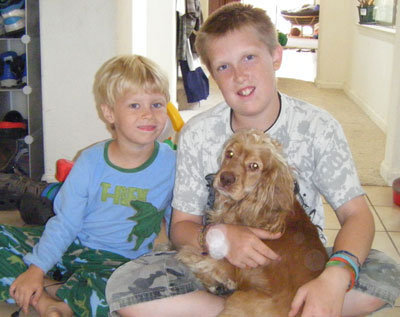 ---
Stella and Gracie
After being without a pet for a quite a while I decided to adopt an older dog and Stella was the choice made for me by the staff member there. I could tell she had been very happy and it took her awhile to feel at home. She did find a way out of the yard my previous dog never found in eight years, but we found her, and fixed the gap in the fence. Since she feels at home now she's never wants to run and I can have her off the leash when I'm with her outside.
I thought she may be lonely, as she comes to me when I am working long hours at the computer and might enjoy a companion. She enjoys other dogs so last month I took her to Lucky Paws to l ook for a companion. We looked at several dogs and then the adorable Gracie stole my heart and she was the one, and has joined our little family. The difference between them is very interesting, like children really and I am enjoying them so much. When they were left alone, Gracie learned how to open the gate, but fortunately after exploring a bit they stayed at home and I have fixed it now so they can't open it. Both of them love their walks and Gracie wants to go after every rabbit. I'm enjoying them so much-they add so much life to my life.

---
Lilly
I wanted to share some pictures of Lilly – the black cocker formerly known as Toppy and as Precious – that I recently took. She loves it here and has taken the yard as her own chasing off any birds that may dare to land on her property! She is such a loving and perfect dog and both my mother and I feel we were completely blessed with her. I hope all is well with you and Lucky Paws.
Kind Regards,
Margy Garland