Lucky Paws is a cage-free sanctuary and "paradise-inspired" environment for our animals; an exclusive existence that has had many different species find their way to our doors over the years. Besides rescued dogs, cats and rabbits, ferrets, pigs, hedgehogs, goats, birds and turtles…even fish have resided with us! We are inspired by St. Francis of Assisi for his devotion to animals and feel he surrounds our animal angels and our green living. Our vow is to provide a stress-free lifestyle for our animals' entire lives. From senior animals to those with special needs, we provide a life filled with compassion and support.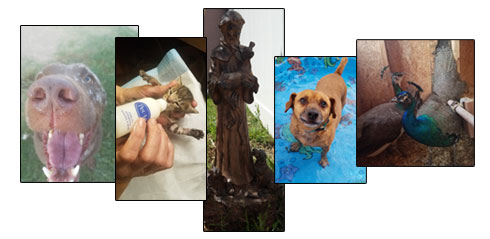 Being a true Sanctuary, we will never be open to the general public as our goal is to maintain minimal stress and noise. However, we do love to share many of these animals with our community at our public events or outing. Come join us at one of our amazing golf tournaments, estate sales or monthly yappy hours and consider becoming a guest or a donor to our magical Fur Ball luncheon. Lucky Paws also loves to bring critters to schools all around the Valley! Children of all ages benefit from learning kindness, compassion and lifelong responsibilities of animal ownership. Spaying and neutering are also an implemented discussion in all outreach programs as this greatly helps with pet over-population which in turn means less animals being euthanized. 
We hope our website provides you with more than just a glimpse of our Sanctuary and we hope to see you at one of our many events! A big wet kiss from all of your furry (and non-furry) friends here at Lucky Paws. Your donations and contributions make our animals the luckiest in the world!!

For a .pdf copy of our tri-fold brochure, click here!